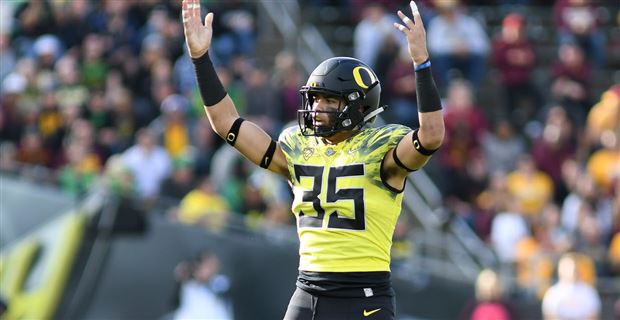 Oregon's 2017 fall camp is just days away, and to get Oregon fans ready for the football season we are previewing every position on offense and defense ahead of camp.
Today's preview looks at Oregon's linebacker.
Spring Recap
With a new defensive coordinator in Jim Leavitt, the Oregon Ducks went from a 4-3 defense to a 3-4 this past spring. That mean the Ducks needed to move players around to accommodate for the fourth linebacker on the field. Defensive ends Justin Holins and Jonah Moi was moved to outside linebacker. Senior Jimmie Swain was moved from inside linebacker to an outside backer. Troy Dye, the team's top linebacker last season was moved to inside to keep him on the field longer and allow him to have a bigger impact. Fotu Leioto II was moved from safety to linebacker as well. Bryson Young, a freshman defensive end bounced between spots.
Oregon spent the spring focused on getting the depth as ready as possible and then searching for any help they could find.
Leavitt created a 'Duck' position at linebacker, which is a hybrid between safety and outside linebacker. Leiato, La'Mar Winston, and Khalil Oliver got the most reps at that position.
The Headliner
Sophomore Troy Dye is the team's best overall defender and that makes him the team's best linebacker. As a freshman last season he became the school's first true freshman to be voted a share of the school's Most Outstanding Player award. He finished the season first in tackles (91), tackles for loss (13), and sacks (6.5). In the spring Oregon decided to move him to inside linebacker as a way to keep their best player on the field more often and to also allow him to have a better chance at being involved in every play.
The Depth
Behind Dye is little-proven depth. Seniors Jimmie Swain and A.J. Hotchkins have been impressive at times, and then at times, they've been very inconsistent. Walk-on Kaulana Apelu has proven he knows what he's doing and has the grit to play inside, but his size limits his impact against bigger teams. Senior Jonah Moi and sophomore Keith Simms are two players the Ducks hope take big leaps in production this coming season.
Sophomores La'Mar Winston and Bryson Young are two players who have all the athleticism to be stars off the edge but need to turn potential into production.
The Biggest Question
How ready will Oregon's freshmen linebackers be for 2017? It is within reason to say the Ducks will be asking Sampson Niu to grab an inside starting spot, and then become one of the team's top five linebackers. Linebacker Isaac Slade-Matautia could also end up having to play inside for the Ducks, and he's likely going to be asked to play right away. Then there is Cyrus Habibi-Likio, a 6-foot-1 freshman that's 220 pounds. He's currently slated to start at running back, but with plenty of depth at that position, could Oregon shift him over to defense?
Projecting the Depth Chart
Outside Linebacker
1. Jimmie Swain SR
2. Jonah Moi SR
3. Justin Hollins JR
4. Keith Simms SO
Inside Linebacker
1. A.J. Hotchkins SR
2. Kaulana Apelu JR
3. Blake Rugraff SO
Inside Linebacker
1. Troy Dye SO
2. Sampson Niu FR
3. Isaac Slade-Matautia FR
Outside Linebacker or Duck
1. Fotu Leiato II JR
2. La'Mar Winston SO
3. Bryson Young SO
Best Case
Oregon's freshmen come into the program and instantly work their way into the Top 6 rotation, with Niu – a U.S. Army All-American – being named a starter inside. This alone gives the Ducks ample depth to survive the rigors of the Pac-12 season. Troy Dye builds off an impressive freshman year and ends up being an All-American linebacker for the Ducks in 2017 as  a sophomore. Senior Jimmie Swain builds off an impressive second-half to last year and gives the Ducks production that lands him on the Pac-12 Honorable Mention. Most importantly, Justin Hollins, La'Mar Winston, and Bryson Young turn all-world potential into legit production, and the Ducks have three viable pass rushers off the edge.
Worst Case
Troy Dye goes down with an early season injury and then Oregon's freshmen struggle with the college speed at linebacker. This leads to Oregon having to rely on Hotchkins and Apelu inside for most of the snaps. On the outside, the Ducks can't find any consistent play, and most importantly they struggle to generate a pass rush. The Duck linebackers are constantly tested against the run, and because of their lack of depth and size, they constantly fail.
Overall
This group wasn't anywhere close to being good last season, but that wasn't because of lack of talent. There are a few prospects on this team that can play and the Ducks will need to lean on them early. Backers like Dye, Swain, and Hotchkins need to stay healthy while Oregon's underclassmen and newcomers adjust to the speed. If there's any sort of injury, this unit could be drastically impaired.